This post includes one or more Amazon Affiliate links. Purchases made through the link(s) allow me to make a small commission. This is at no extra charge to you. You can read more here.
Synopsis
Seventeen-year-old Quinn Hughes needs to be in top shape if she wants to medal at the swimming World Championships in ten months. This means no easy distractions, no matter how pretty they are.
She's still piecing her confidence back together after not qualifying for the Olympics, her relationship with her twin brother is getting worse the more he hangs out with the popular kids, and then Kennedy Reed suddenly squeezes herself back into Quinn's life. The girl who was her best friend. The girl who gave Quinn her first kiss. The girl who hasn't spoken to her since.
Soon, Quinn finds herself juggling her new girlfriend, training for the biggest competition of her life, and discovering she's not the only Hughes twin with a crush on Kennedy Reed. All these distractions are getting to her, and if she wants that medal she needs to find a way to stop drowning on dry land.
My review
I received a free, advanced reading copy of this book from NetGalley in exchange for an honest review. Thank you to the publisher for the reading & reviewing opportunity.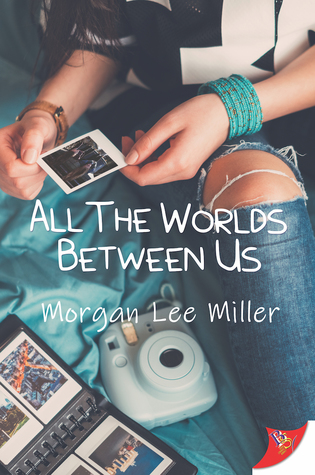 Rating: 3 stars
Spoilers Ahead
Here I am, finally, reviewing this book almost two months after receiving it… because I suck at prioritization. I received this book as an advanced reading copy, but as you can see from the book info, it's now been published for over a month. So yea, I suck.
Anyways.
This was kind of a boring read for me. I always get super excited to read f/f books (and I was extra excited since it's Pride Month!), but I'm so often let down by them. I truly want to enjoy f/f books more, but the plots never pan out for me. I feel like every single book I read about a girl loving a girl ends in them breaking up because they are moving away from each other. I'm obviously exaggerating but… it really does feel that way to me. The relationships can never just be.
The characters in this were not my favorite. Quinn was definitely a bit of a badass and I loved her commitment to swimming. Main characters in LGBTQ+ are often written completely around their sexuality &/or relationship, and I'm always grateful when they are written like normal human beings. However, I didn't like Quinn much as a whole. Something about her just didn't sit the best with me. I felt like she had a tendency to be a bit self absorbed at times (especially when it came to her leading on her ex, ditching her friends and teammates, etc).
Kennedy was also very hard for me to like. There's absolutely nothing wrong with waiting to come out to your friends and family until you're ready, but that truly does not mean that you get to pretend that your girlfriend doesn't exist and let your best friend be completely rude to her. To me, this was just a big, red, blinking sign that read, "Kennedy is not a great person", because girlfriend or not, you should never stand by or excuse bullies.
Since we're already on the topic, lets talk about that bullying. What the hell was that even about!? Quinn is an amazing swimmer and has gone to the Olympic trials! Yeah, she didn't make it, but who in their right mind would think that making it to the Olympic trials makes her a failure? The mean girl in this (I can't even remember her name because this book really hasn't stuck with me) is always making fun of Quinn for it and no one ever stands up and says, "Hey, if that's such a failure on her part, I'd love to see you attempt to make it that far". I know the girl hate was centered heavily around jealously but… come on now. If I knew someone who made it to the Olympic trials, I'd applaud them endlessly.
The relationship between Quinn and Kennedy could be very cute at times, so long as they were alone and literally no one was around them. Their whole 'we used to be best friends as kids and now we are in love with each other as young adults' thing was sweet, I'll admit it. There are some pretty explicit scenes in this, though nothing too bad. Everything was consensual, albeit underage (I think??? Maybe one of them was already 18, I'm not sure actually). Still, proceed with caution if that type of thing is not for you (I personally could've done without it in this book).
Looking back over this review, I feel like I talked very little about the plot, but this was really very character driven. The characters kind of make up most of the plot. The background characters were pretty much just that… background characters. I will say that I loved Quinn's parents and their unconditional support of their daughter, though I would've definitely liked to see more of them throughout the novel.
This really wasn't a bad book. It was just not super memorable. If you're looking for more f/f reads this Pride Month (and every other month), then pick this up.
Note: Can someone recommend me a f/f book that ends happily, please? I'd seriously appreciate it!