This post includes one or more Amazon Affiliate links. Purchases made through the link(s) allow me to make a small commission. This is at no extra charge to you. You can read more here.
Synopsis
The Fault in Our Stars meets Eleanor and Park in this exhilarating and heart-wrenching love story about a girl who learns to live from a boy who intends to die.
 
Theodore Finch is fascinated by death, and he constantly thinks of ways he might kill himself. But each time, something good, no matter how small, stops him.
Violet Markey lives for the future, counting the days until graduation, when she can escape her Indiana town and her aching grief in the wake of her sister's recent death.
When Finch and Violet meet on the ledge of the bell tower at school, it's unclear who saves whom. And when they pair up on a project to discover the "natural wonders" of their state, both Finch and Violet make more important discoveries: It's only with Violet that Finch can be himself—a weird, funny, live-out-loud guy who's not such a freak after all. And it's only with Finch that Violet can forget to count away the days and start living them. But as Violet's world grows, Finch's begins to shrink.
This is an intense, gripping novel perfect for fans of Jay Asher, Rainbow Rowell, John Green, Gayle Forman, and Jenny Downham from a talented new voice in YA, Jennifer Niven.
My review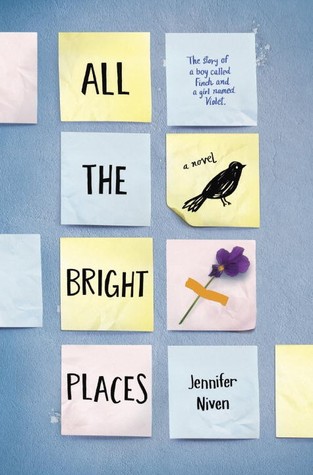 Rating: 2.25 stars
Content warning: talk of suicide, heavy content surrounding bipolar disorder, and suicide
I know I'm going to make someone angry by saying that I didn't like this book, but I'm sorry. I didn't like this book.
Here's the thing: I can't tell you whether this is accurate Bipolar Disorder rep or not. I can tell you, however, that on a much broader spectrum that just covers the entirety of mental illnesses, I did feel like this had some very accurate, very relatable content. Finch is the type of character that you feel close to, even though he's a fictional being. His feelings and emotions are very scattered in a way that you can understand if you've been there. I don't know how to else to explain it.
So, I'm not going to tell you that this was an unrealistic story. My understanding is that the author loosely based it on a boy she once knew. And who am I to say that this story doesn't relate to someone else's experiences? So I'm not going to do that.
But I am going to say that, regardless of how realistic or unrealistic it may have been, I didn't enjoy it.
This book took me an abnormally long amount of time to finish. To be completely honest, I thought that everything beyond the mental illness rep was pretty boring. I am also not on board with the whole "maybe love could cure his sadness" thing that Violet had going on. Violet was grieving for her sister before meeting Finch, so she has a level of relatability too, but beyond that, I really didn't care for her character at all. She spent half the book being embarrassed by her association with Finch and the other half thinking that her loving Finch should be enough to pull him out of his "funk" (AKA his mental illness that cannot be cured by someone loving you).
*Spoilers in this paragraph* On top of my dislike for Violet, every single other character in this book was so easy to dislike (other than Finch). Finch is very clearly very ill. His counselor knows it (and even makes a comment about needing to keep Finch from committing suicide in order to avoid a lawsuit against him, because that's what someone should worry about when a kid is contemplating jumping from a bell tower). His classmates all know, considering they watched him standing atop the bell tower and instead of offering him understanding or support, they romanticized Violet "saving" him and put his name in the school paper as the most suicidal student. His mother avoided seeing his illness for what it truly was. Everyone acted like he was just some silly kid who would grow out of it all, and no one helped him! Ever!!
The story also put me in a pretty bad place myself, which generally doesn't happen for me when reading mental illness books, so I'd highly recommend proceeding with caution. The title might make you think you're in for a happy story, but you're really not.
Honestly, I think this type of book is all about preference. I don't want to tell anyone that it just flat out sucks, because that would be a lie. It just didn't mesh well with me at all, and as much as I hate to not enjoy books with mental illness rep, I can't be dishonest and pretend that I liked this. The story dragged for me a lot until the climatic point, and then it dragged for me afterwards, too. It's a tough read at times and I just personally didn't find it worth the mood it put me in.