This post includes one or more Amazon Affiliate links. Purchases made through the link(s) allow me to make a small commission. This is at no extra charge to you. You can read more here.
Synopsis
Aging and reclusive Hollywood movie icon Evelyn Hugo is finally ready to tell the truth about her glamorous and scandalous life. But when she chooses unknown magazine reporter Monique Grant for the job, no one is more astounded than Monique herself. Why her? Why now?
Monique is not exactly on top of the world. Her husband has left her, and her professional life is going nowhere. Regardless of why Evelyn has selected her to write her biography, Monique is determined to use this opportunity to jumpstart her career.
Summoned to Evelyn's luxurious apartment, Monique listens in fascination as the actress tells her story. From making her way to Los Angeles in the 1950s to her decision to leave show business in the '80s, and, of course, the seven husbands along the way, Evelyn unspools a tale of ruthless ambition, unexpected friendship, and a great forbidden love. Monique begins to feel a very real connection to the legendary star, but as Evelyn's story near its conclusion, it becomes clear that her life intersects with Monique's own in tragic and irreversible ways.
My review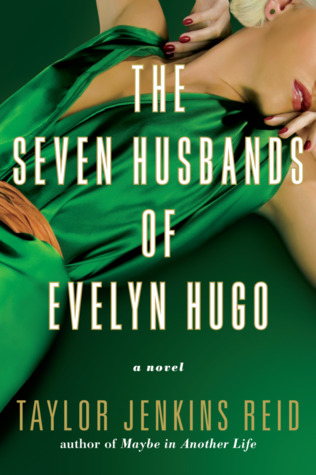 Rating: 4.75 stars
I was not emotionally ready for this book. Why is Taylor Jenkins Reid so determined to make me cry? Someone should've warned me about the emotional turmoil I was going to be putting myself through by reading this.
I honestly don't even know what words to use to describe this. It was great and so very far from what I expected it to be.
As I mentioned when talking about Daisy Jones and The Six, Taylor Jenkins Reid can make you root for the unlikable characters. Evelyn Hugo is flawed. So deeply flawed. But her beauty and charisma clouds the worst of her and people see only what they want to see. As she shares her full story, readers are given an unedited glimpse into who she truly was, and it was often enough to make you dislike her. But in the same instance, Evelyn was so vulnerably human and also focused on one thing: survival. For herself, and for the people she loved. Every bad, selfish decision she made hurt someone, but saved herself or her loved ones. I guess it's not really excusable, but I think most of us would do the same.
A lot happens throughout this story. It's Evelyn's recollection, told to a young female journalist, but it's not just her story. There are many lives intertwined. Other peoples' secrets, emotions, and heartbreaks. There's so much more than just marriage and divorce in this story.
"Sometimes divorce isn't an earth-shattering loss. Sometimes it's just two people waking up out of a fog."
Because the story is told through Evelyn's eyes, we don't always get the full version of the people she knew, wed, or loved. But we see enough of them to know how she saw them, and how they effected her life. There were a few pompous, awful characters who I hated, but out of 7 husbands, there are bound to be a couple bad eggs. There was seemingly endless representation in this, even though it starts in the 1950s. Evelyn, one of the main characters, is Cuban, and Monique, the journalist, is the daughter of an African American man and a white woman. There is an immense and joyful amount of LGBTQ+ rep in this story that I have to admit that I had not expected whatsoever.
The writing was magnificent, which I'm learning seems to be the trend with this author. I'm once again completely stunned by her ability to write something so unique and worthy. She mended so many lives together throughout this novel. Even Monique, who really seemed like a filler in the beginning as a means to explaining the way the book is being narrated, is important and connected to the stories of these people, even so many years later. Everything is strung together to make perfect sense by the end; you'll understand every action of Evelyn's and every emotion from Monique. Your heart will smile and grow, then shatter and break. Evelyn's life is full of both happiness and sadness, and as imperfect as she was, I rooted for her. I really did.
There are an ample amount of things that I'd like to talk about from this book that I can't mention without spoiling big parts of the story. It feels like every single page -all 388 of them- give you something new, heartbreaking, or heartwarming. I want people to read it and experience Evelyn & Monique's story themselves, because it was a truly unique one. If you are interested in this, I'd also recommend the audiobook. It's done wonderfully and really adds to the overall story telling experience.