This post includes one or more Book Depository Affiliate links. Purchases made through the link(s) allow me to make a small commission. This is at no extra charge to you. You can read more here.
Synopsis
Everyone knows Daisy Jones & The Six, but nobody knows the reason behind their split at the absolute height of their popularity . . . until now.
Daisy is a girl coming of age in L.A. in the late sixties, sneaking into clubs on the Sunset Strip, sleeping with rock stars, and dreaming of singing at the Whisky a Go Go. The sex and drugs are thrilling, but it's the rock and roll she loves most. By the time she's twenty, her voice is getting noticed, and she has the kind of heedless beauty that makes people do crazy things.
Also getting noticed is The Six, a band led by the brooding Billy Dunne. On the eve of their first tour, his girlfriend Camila finds out she's pregnant, and with the pressure of impending fatherhood and fame, Billy goes a little wild on the road.
Daisy and Billy cross paths when a producer realizes that the key to supercharged success is to put the two together. What happens next will become the stuff of legend.
The making of that legend is chronicled in this riveting and unforgettable novel, written as an oral history of one of the biggest bands of the seventies. Taylor Jenkins Reid is a talented writer who takes her work to a new level with Daisy Jones & The Six, brilliantly capturing a place and time in an utterly distinctive voice.
My review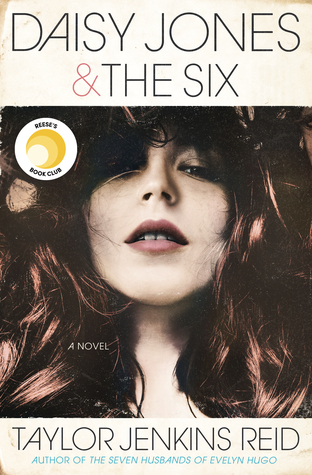 Rating: 4.5 stars
"Passion is… it's fire. And fire is great, man. But we're made of water. Water is how we keep living. Water is what we need to survive."
TW: Heavy drug use, alcoholism, and abortion.
Taylor Jenkins Reid knows how to write a story.
First, I want to say a thank you to the masses who have talked about this book obsessively. I probably never would've read it had it not become so widely raved about. This really isn't the type of book that I usually go for, and now I'm thinking that I should rethink that because this. was. amazing.
Daisy Jones & The Six is written like a band documentary manuscript. The band members make up a large chunk of the book, but managers, studio producers, friends, and family members are included as well.
I wasn't alive in the 70s. My parents weren't even alive in the 70's (I know, they are young). I cannot say with absolutely any amount of credibility whether this book gives an accurate description of the rock'n'roll scene in the 70's. But I can tell you that it felt real. Taylor Jenkins Reid made me care about this band like they were among my favorites and I had their posters covering my walls. There were numerous times throughout this novel that I thought, "This must be a real band", because it was written in a way that made you doubt that these are fictional characters. It really, truly felt that way. It's a book about a book that's about a band. Does that even make sense? There is never a moment that the words bring you back down to Earth and remind you that Daisy Jones and Billy Dunne aren't real people. You believe that they are. You become invested in their stories, and in the stories of Camila, Graham, Warren, Karen, Pete, and even Eddie. You don't just want to know their story; you feel like you are apart of it in someway.
Taylor Jenkins Reid has a skill that I haven't found many authors to perfect just yet: She can make you root for unlikable, imperfect, and entirely untrustworthy characters. Not a single person in this book could survive unscathed in a YA contemporary novel. But in this recollection of fictional past events during a time when drugs were cheap and accessible, sex was no big deal, and rock'n'roll ran the world, these are the type of characters that you find yourself pining for. They're all addicted to something, they're all a little self absorbed, and they're all full of less than good qualities. But they're connected. Through their music, their lyrics, their studio sessions, their tours. They are like an extremely dysfunctional family that doesn't seem to much like each other, but you like them nonetheless.
I think a story like this could get boring if it's not done right. I don't like watching documentaries because sometimes I'm just not interested. I was scared that would happen while reading this, because really, how interesting can a bunch of high adults writing and recording songs be? But the thing is, there's so much more than that going on. You don't necessarily even realize it while you're reading it, but after you're finished, you look back and think about how many things that really matter got discussed throughout and you're maybe a little shocked.
Drugs and addiction are a huge part of this story. Temptation, sex, and love are even bigger. I guess, in a way, the author knows how to make it all feel like the same thing, though, ya know? Like maybe temptation doesn't stop at getting high or giving into lust. Maybe it goes all the way to trying not to love somebody when it's already too late.
"You have these lines you won't cross. But then you cross them. And suddenly you possess the very dangerous information that you can break the rule and the world won't instantly come to an end. You've taken a big, black, bold line and you've made it a little bit gray. And now every time you cross it again, it just gets grayer and grayer until one day you look around and you think, There was a line here once, I think."
A thing I feel is important to mention (and applaud) is also the feminine empowerment undertones throughout. There was a never a moment where I thought, "This book was written to show what women can be". Instead, I thought, "Women can just be". There was never any outright shocking statement or claims. Daisy and Karen were a part of the band, and they were just as famous as the five men. They deserved everything the same and when they didn't get it, they stood up for it. And that was just that. Daisy tends to take front and center as the main female voice, but Karen's story is also really important, and I'm not going to spoil it, but I'm glad it was included the way it was.
"Men often think they deserve a sticker for treating women like people."
Overall, this was… this was so good. I cried at the end, and that's very rare for me. I am currently obsessed with Taylor Jenkins Reid. Not even just because of her writing style, which is notable all on it's own, but also because she can tell a story in a genre that I hate, and make me love it. She is a spectacular story teller, and her creativity and ability to make the reader forget that what you're reading is not real is a true skill in my book. I'd honestly recommend this to everyone.