Ah, January… what a shitty month it has been guys.
So, in January I read 15 books. Not bad, right? I intended on reading a bit more, but I had a loss in my family that left me feeling very uninspired (hence, why this month has been so. damn. shitty).
But, on a slightly positive note, I joined NetGalley this month and received 6 ARCs.  For some of you highly experienced and beautifully talented reviewers, that's probably not much to gawk at. But I am still pleased as a new blog with a low follow count and a need to review, review, review.
So, now that the little summary of my book updates for January 2018 is finished, let's check out what I read:
---
---
---
1. Vanishing Girls- Lauren Oliver                                                                                                       Jan. 01- 02 2018 
3 stars

My first read of the year was… uneventful. That's pretty much the gist of it. I'm over the whole 'MC is imagining someone's who's dead is still alive' plot line. More over it than I can even explain to you. Nothing really happens in this book basically until the end and I saw the plot twist coming a mile away. It wasn't awful and it wasn't wonderful.
---
---
2. I, Girl X- Annalise Grey                                                                                                                      Jan. 02-03 2018
4 stars
This book is written in prose and has a really insightful take on being the family member left behind when someone you love is consumed with mental illness. It was short, easy to read, and heartbreaking.
---
---
3. The Upside of Unrequited- Becky Albertelli                                                                                Jan. 03-05, 2018
5 stars
I love, love, love this book and that's really saying something considering I pretty much hate all overly cutesy YA reads that focus on nothing but relationships. I am a believer that a story about teenagers can be about something other than relationships!! Who knew????
BUT, with that being said, this book touched on so much more than just Molly's relationships. It included sexuality, body image, friendships, sisters, parents, etc. It went far beyond my original expectations of the book and was my first 5 star read of the year.
---
---
4. The Sun and Her Flowers- Rupi Kaur                                                                                           Jan. 03-07, 2018
5 stars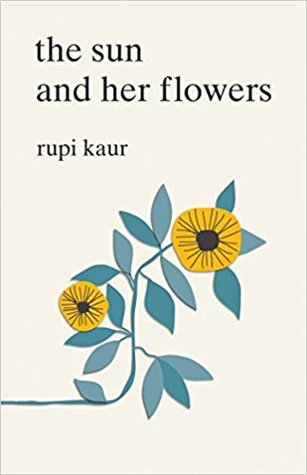 Rupi Kaur speaks to my soul on all occasions. I love her work and don't know that I could ever find one of her books to be less than 5 stars. I loved it. I expected nothing less. I'll probably reread 80% of these poems again and again because they are just that beautiful to me. Love love love.
---
---
5. Elena Ransom and the Firebird Unit- J.S. Wood                                                                         Jan. 05-07, 2018
3.5 stars
This book was sent to me by its author and I was very intrigued by the whole futuristic setting that Wood set up. The book is definitely more so for younger readers into YA (13-14, at this time) but this is supposed to be a series of 6, and each book covers one year in the life of Elena Ransom and her friends, so by the time the series is over, the characters should be 18!
Even with the age difference the story is written very well and has a very fresh take on the futuristic dystopia genre that I found to have a lot of potential.
---
---
6. Elena Ransom and the Catalan Atlas- J.S. Wood                                                                         Jan. 07-10, 2018
4.25 stars
The author of this series also sent me this book as well. It is certainly noteworthy that I found the second installment in the Elena Ransom books to be better than the first. I am still not entirely sure whether it's because I started to really care about her characters, or if the set-up was out of the way after the first book and it made it easier to read. Either way, I loved this book and was sad to see it end. I felt a connection to these characters and I think that Wood has something really strong going here.
---
---
7. You Were Here- Cori McCarthy                                                                                                        Jan. 11-13, 2018
1 star
A lot of reviewers really enjoyed this book. Which is fine, because one of my favorite things about the reading community is that we all read a book in different ways. So I'm not mad that they love a book that I hated.
I really couldn't get past all the teenage drama disguised as grief. The synopsis of the book lied to me and I'm still really upset about it. I tried to like it, but it just didn't stick for me. Thank you McCarthy, for my first 1 star rating of the year. I really hate to give those out, but you forced it out of me.
---
---
8. Beauty Queens- Libba Bray                                                                                                               Jan. 13-14, 2018
4.5 stars
I loved this book and all its stereotype defiance so much. I really cannot express that enough. This book has everything. If there's a topic that the rest of the world is uncomfortable talking about, Libba Bray wrote about it in this book. And it was amazing.
---
---
9. Flowers of Evil- Charles Baudelaire                                                                                               Jan. 10-15, 2018
4 stars
This was required school reading for me, but it was absolutely amazing. I'm a lover of poetry and I appreciate Baudelaire's intense need to make things different than others (he left Romanticism in the past and kicked Modernism up front and center). My all time favorite poem by Baudelaire is in this text and is titled The Sick Muse. Check it out; it won't disappoint you.
---
---
10. Heart of Darkness- Joseph Conrad                                                                                               Jan. 10-15, 2018
3 stars
This was another school required reading and it pretty much bored me out of my mind. This book is one of those pieces of literature that most of the literary world believes you have to read in order to fully appreciate and understand the boundaries of literature. So, of course it's required reading for me, an English major. If you can push through the beginning, it does get more interesting, and does have some very good insights. But to be honest, pushing through it can be very difficult. Approach with caution.
---
---
11. The Witch Doesn't Burn in this One- Amanda Lovelace                                                        Jan. 26-27, 2018
4.5 stars
This book of poetry is beautiful and raw and real and I couldn't get enough of it. I wasn't super intrigued by the first section of the book, but after that I fell madly in love. Lovelace hits on so much that I question how she was able to  fit it all in one book. This is one to pick up and own if you're a fellow lover of poetry.
---
---
12. See All the Stars- Kit Frick                                                                                                              Jan. 16-27, 2018
3.5 stars
I'm not angry at this book but it did very little for me personally. It was an interesting read that certainly managed to shock me, but in a bad way. As I've said, I'm waaaaaayyy over pretending dead people are alive in books. It's really starting to irk me, if I'm being honest. BUT, Frick did keep me from seeing that one coming, so I definitely give her props for that. The book is mostly about high school drama, which as I've said, I'm just not into. Frick took the book out of chronological order though, and this is what really saved it for me. Going back and forth from the past to the present kept me reading if I'm being honest. I wanted to know what was sooooo bad that had happened in the past and you have to get through the entire thing to find out. So, at least Frick knows how to keep a reader interested.
---
---
13. Meet Me in the Strange- Leander Watts                                                                             Jan. 27-30, 2018
1 star
This book enrages me more and more as I continue to think about it. It just frankly made absolutely no sense to me, and I don't care if I'm alone in that because what the hell is going on in this book???????
This is some weird magical realism (maybe) type of book that I think may be appreciated by readers who enjoy this type of stuff but… not me. This was terrifying.
---
---
14. Mrs. Dalloway- Virginia Woolf                                                                                                       Jan. 28-30, 2018
5 stars
This was another required reading for school but I loveddddd it. I mean, how could you read this and not love it?! Someone please tell me. Actually, you know what, scratch that. Don't. Because if you trash this book we may have a serious problem. 
This is such an intense, dense, and beautiful book that has so much purpose in each and every paragraph, sentence, word… Woolf is a freakin' literary genius and if you don't agree then go away because I don't have time for your negativity.
---
---
15. An Outline of Psycho-Analysis- Sigmund Freud                                                                       Jan. 29-30, 2018
4 stars
There is one thing that I believe should be fundamentally understood about Freud, whether you like him, hate him, agree with him, or believe he's totally off his rocker: he will not bore you. He may surprise you, frustrate you, make you want to throw his books out of the nearest window and say, "What the absolute hell?". But he will never bore you.
I think Freud is pretty out there. But as a past psych major and a current English major, I find his work, as well as himself, completely fascinating (even when I don't agree with him whatsoever). Disagreeing with the content doesn't make me a hater. It almost makes me love the work itself all the more.
So yeah. 4 stars from me. Bring on the hate anti-Freudians.
---
---
---
Alright guys, that's my month of January reading all wrapped up! Hope my mini-analysis's aren't too confusing to understand.